---

1993

1993 Corvette exterior was the same as 1991 and 1992.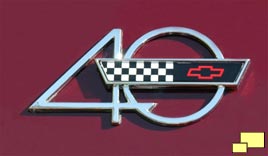 A 40th anniversary edition was available for 1993 only. The package included Ruby Red paint and leather, special wheel centers and emblems on the front fender behind the wheel and above the belt line.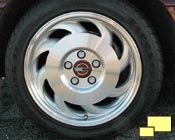 Sawblade wheel, as they were affectionately known, were standard equipment in 1991 through 1996 Corvettes. For 1993 to 1996 they were machine surfaced with a clear coat.
---
1994
1994 Corvette exterior was the same as 1991 through 1993.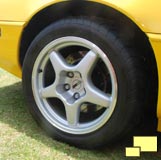 The 1994 and 1995 ZR-1 was treated to a new non-directional wheel design with the distinctive deep dish center bolt area.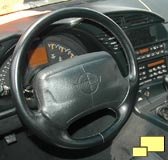 The steering wheel went from a four spoke to a two spoke design in 1994. Also, a passenger air bag became standard Corvette equipment.
---
1995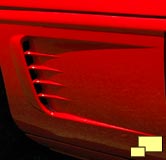 The 1995 and 1996 Corvette featured a revised and more streamlined front fender gill.
1995 was the last year for the ZR-1 Corvette.
---
1996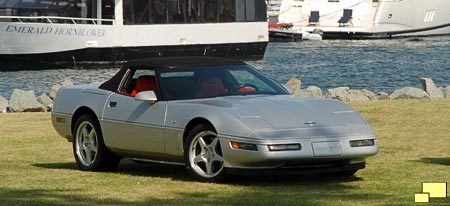 1996 was the last of the C4 generation which first appeared in 1984. In celebration, a Special Edition was available which offered non-directional five spoke wheels, Sebring Silver paint and (below) special badging.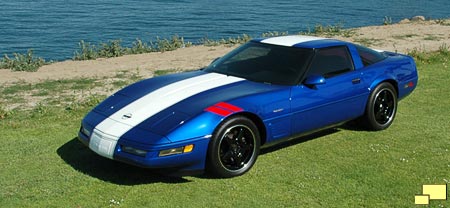 Also only for 1996: A special Grand Sport package was available and featured Admiral Blue paint with centered white stripe, hash marks on the left front fender and a distinct interior.
Non Grand Sport and Special Edition 1996 Corvettes had exteriors identical to the 1995 Corvettes.
Note: Clicking on an image with this symbol (

) will lead to a larger image.
---
Comments
No comments yet. Be the first!
---