---

1965, 1966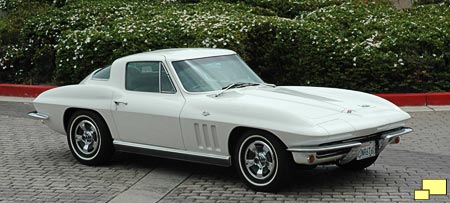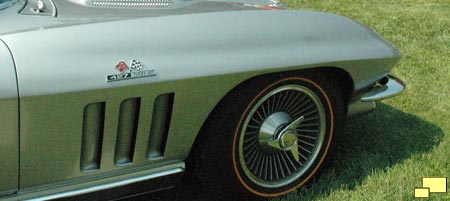 Above: Three functional (Thanks, GM!) vertical fender louvers were common to all 1965 and 1966 Corvettes.
Distinguishing the 1966 'vette is the job of the "Corvette" script in the left front of the hood. The script was not installed in 1965 Corvettes (below).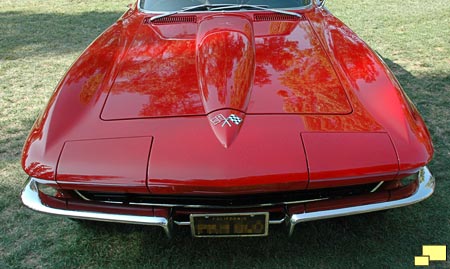 The hood depressions on the 1963 and 1964 Corvettes were gone in the 1965 through 1967 model years.
Above Right: Three louvers and a fuel injection emblem signify a 1965 Corvette as that was the last year for that option. Middle: 396 emblem also identifies a 1965 Corvette as that was the only year that engine was available. Right: 427 emblem above the three vertical louvers was only found on 1966 'vettes.
Hood bulge (right) signified that a big block engine was lurking underneath in 1965 and 1966 Corvettes. Be aware however that there are reports that the factory installed some big block hoods on small block equipped cars due to parts availability.
---
Note: Clicking on an image with this symbol (

) will lead to a larger image.
---
Add Comment
{"commentics_url":"\/\/corvettestory.com\/commentics\/","page_id":2175,"enabled_country":true,"country_id":0,"enabled_state":true,"state_id":0,"enabled_upload":false,"maximum_upload_amount":3,"maximum_upload_size":5,"maximum_upload_total":5,"captcha":true,"captcha_url":"http:\/\/corvettestory.com\/commentics\/frontend\/index.php?route=main\/form\/captcha&page_id=2175","cmtx_wait_for_comment":"cmtx_wait_for_comment","lang_error_file_num":"A maximum of %d files are allowed to be uploaded","lang_error_file_size":"Please upload files no bigger than %.1f MB in size","lang_error_file_total":"The total size of all files must be less than %.1f MB","lang_error_file_type":"Only image file types are allowed to be uploaded","lang_text_loading":"Loading ..","lang_placeholder_country":"Country","lang_placeholder_state":"State","lang_text_country_first":"Please select a country first","lang_button_submit":"Add Comment","lang_button_preview":"Preview","lang_button_remove":"Remove","lang_button_processing":"Please Wait.."}
Comments (1)
{"commentics_url":"\/\/corvettestory.com\/commentics\/","page_id":2175,"is_permalink":false,"lang_text_view":"View","lang_text_reply":"reply","lang_text_replies":"replies","lang_text_replying_to":"You are replying to","lang_title_cancel_reply":"Cancel this reply","lang_link_cancel":"[Cancel]","lang_text_privacy":"Privacy","lang_text_terms":"Terms","lang_text_agree":"[1] \/ [2]","lang_text_not_replying":"You are not replying to anyone","lang_button_loading":"Loading..","lang_button_more":"More Comments","lang_button_edit":"Edit Comment","lang_button_reply":"Add Reply","lang_link_reply":"Switch to full reply","lang_link_refresh":"[Refresh]","date_auto":true,"show_pagination":true,"quick_reply":false,"pagination_type":"multiple","timeago_suffixAgo":"ago","timeago_inPast":"a moment","timeago_seconds":"less than a minute","timeago_minute":"a minute","timeago_minutes":"%d minutes","timeago_hour":"an hour","timeago_hours":"%d hours","timeago_day":"a day","timeago_days":"%d days","timeago_month":"a month","timeago_months":"%d months","timeago_year":"a year","timeago_years":"%d years"}
{"commentics_url":"\/\/corvettestory.com\/commentics\/","auto_detect":false}
---